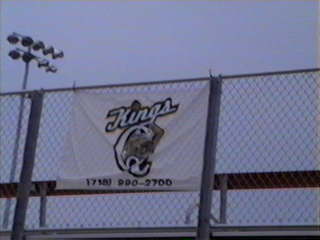 TEAM ::: QUEENS KINGS
LOCATION ::: QUEENS, NEW YORK
MY FIRST GAME HERE ::: AUGUST 6, 2000
OPPONENT ::: STATEN ISLAND YANKEES
LEVEL ::: NEW YORK - PENN LEAGUE A
RATINGS
BALLFIELD ::: A+
SCOREBOARD ::: C-
FOOD ::: C
FACILITIES ::: C
MASCOT ::: B-
MY TAKE ON THE PARK
BACK IN 1999 THE METS AND YANKEES MADE AN AGREEMENT TO BRING THE NEW YORK - PENN LEAGUE TO THE BIG CITY. THE YANKEES WENT TO STATEN ISLAND, THE METS HAD ONE YEAR REMAINING ON THEIR AGREEMENT SO COULDN'T FIELD A TEAM, BUT THE BLUE JAYS AFFILIATE, ST CATHERINE'S STOMPERS MOVED TO QUEENS TO BECOME THE QUEENS KINGS. ONE YEAR LATER THEY WOULD TURN INTO METS AFFILIATE THE BROOKLYN CYCLONES AND BECOME ONE OF THE MOST SUCCESSFUL MINOR LEAGUE FRANCHISES.

WHEN YOU ARRIVED AT THE PARK, BECAUSE IT WAS ON THE COLLEGE CAMPUS THERE WAS ENOUGH PARKING, CONSIDERING THE AMOUNT OF PEOPLE THAT ATTENDED GAMES IT NEVER REALLY BECAME AN ISSUE. FROM THE OUTSIDE YOU WERE GREETED WITH A SIMPLE TARPED HOOKED ONTO THE BACK OF THE BLEACHERS THAT LET YOU KNOW THE QUEENS KINGS PLAYED HERE.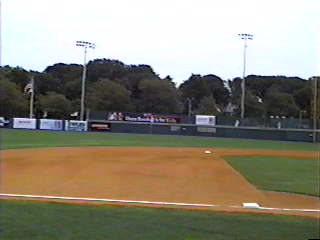 INSIDE THE PARK WAS A SIMPLE SET UP OF 2 SECTIONS, ORANGE SEATS FROM BEHIND HOME TO FIRST, BLEACHERS BEHIND THE THIRD BASE DUG OUT. EVEN THOUGH THEY WERE ONLY THERE FOR ONE YEAR, ONE AREA THEY DID NOT IGNORE WAS THE FIELD. ONE OF THE NICEST LAWNS I'VE SEEN IN BASEBALL WAS RIGHT HERE IN QUEENS.
IF YOU WANTED TO EAT, THE CONCESSION STANDS WERE TENTS AND A GUY WITH A GRILL, BACKYARD ITEMS OR A NY PRETZLE WERE THE CHOICES.

THE SCOREBOARD WAS A SIMPLE LINE SCOREBOARD WITH NO VIDEO OR LINEUPS.

WITH THE SUCCESS OF THE BROOKLYN CYCLONES AND STATEN ISLAND YANKEES IT IS DOUBTFUL THIS PARK WILL BE USED AGAIN. IT WAS WHAT IT WAS, A SERVICEABLE STOP GAP FOR THE METS.
THE LINE UPS
SI YANKEES MANAGER ::
11 JOE ARNOLD
QUEENS KINGS MANAGER ::
7 EDDIE RODRIGUEZ
STATEN ISLAND YANKEES
2 Sam Bozanich 2b
28 Tommy Winrow rf
12 Elvis Corporan 3b
20 Jason Kinchen 1b
45 Mitch Jones lf
38 Dave parrish dh
27 Jeff Gates c
13 Clay Hooper ss
22 David Fowler cf
43 Danny Borrell p
17 Kyle Stanton LP
QUEENS KINGS
3 Rich Thompson cf
1 Wade Rikert dh
4 Alexis Rios rf
18 Mike Snyder 1b
29 Martin Malpica 3b
2 Dominic Rich 2b
11 Guillerma Quiroz c
28 Brian Sellier lf
5 Paul Tablado ss
17 Mike Smith p
20 George Perez WP
SCOREBOARD
YANKEES 010 100 000 2 6 3
K I N G S 000 000 021 3 3 0
TIME ::: 2:32
ATTENDANCE ::: 2,139
WEATHER ::: 72 OVERCAST, LIGHT DRIZZLE
SEND ME AN E-MAIL

LINKS
Queens weather from WEATHER.com

© 2000 - 2012 UNCLE BOB'S BALLPARKS I AM IN NO WAY AFFILIATED WITH ANY OF THE TEAMS ON THIS PAGE ... THIS PAGE IS MEANT FOR INFORMATION PURPOSES ONLY.