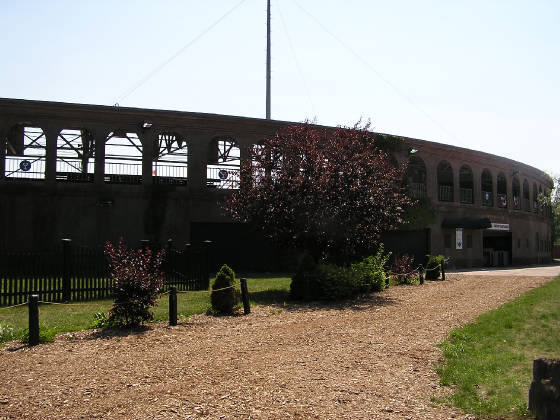 TEAM ::: NEW HAVEN RAVENS
LOCATION ::: WEST HAVEN, CONNECTICUT
MY FIRST GAME ::: JULY 6,1994
OPPONENT ::: BOWIE BAYSOX
LEVEL ::: EASTERN LEAGUE 'AA'
RATINGS
BALLFIELD ::: B
SCOREBOARD ::: C
FACILITIES ::: C
FOOD ::: B
MASCOT ::: B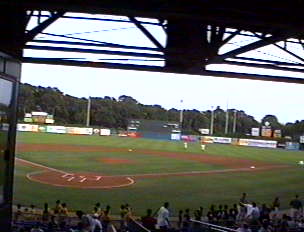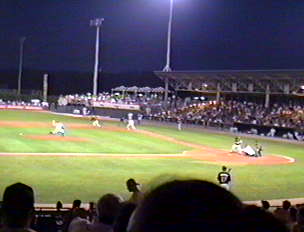 WHEN YOU EXIT OFF I-95 FOR YALE FIELD, YOU HAVE A VIEW OF THE LONG ISLAND SOUND, REALLY ONE OF THE MOST SCENIC EXITS IN CONNECTICUT. THEN, WHILE YOU START OFF ON THE LOCAL STREETS YOU HAVE TO WONDER HOW DID THE FOOTBALL GIANTS ACCOMODATE THEIR FANS HERE?

LOCATED DIRECTLY ACROSS FROM THE YALE BOWL, YALE FIELD IS AN OLD TIME PARK LOCATED AT 245 DERBY AVE. OVER THE YEARS THEY HAVE ADDED SOME STANDS AND CONCESSIONS AND REALLY HAVE TRIED TO CLEAN THE PLACE UP.

IF THERE WAS A DOWNSIDE TO YALE FIELD, UNFORTUNATELY IT IS A VERY BIG DOWNSIDE, THE BATHROOMS ARE A MESS. THEY ARE SMALL AND INADEQUATE AS WELL AS OVERFLOWING AND MESSY.

FROM THE INSIDE OF THE PARK, BEHIND THE STANDS ARE ARCHWAYS THAT RESEMBLE THOSE IN OLD COMISKEY PARK. AN ASPECT OF THE PARK I GREATLY ENJOY.

YALE FIELD IS AN OLD TIME PARK THAT THROUGH THE YEARS HAS BEEN SLIGHTLY MODERNIZED WITHOUT TAKING AWAY THE OLD TIME FEEL.
IN CENTER FIELD SITS A MANUAL SCOREBOARD THAT RESEMLES THE BOARD IN FENWAY. THE BALLS, STRIKES,AND OUTS ARE RECORDED IN LIGHTS AND THE LINE SCORE IS PUT UP BY HAND. ONLY THING HERE, I THINK THE GUY WALKS ON A PLANK OF WOOD AS OPPOSED TO INSIDE THE SCOREBOARD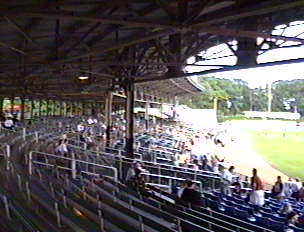 YALE FIELD IS ONE OF MY FAVORITE MINOR LEAGUE PARKS, IF THEY JUST FIXED THE BATHROOMS, THE PLACE COULD BE PERFECT. SADLY, HOWEVER,2003 WAS THE FINAL SEASON FOR THE RAVENS WHO HAVE MOVED TO NEW HAMPSHIRE. THE 'INDEPENDENT' BRIDGEPORT BLUEFISH JUST MAY HAVE TAKEN AWAY THE RAVENS FANS .. I GUESS A MODERN FACILITY IS BETTER THAN AFFILIATED BALL.
THE LINE UPS

BOWIE MANAGER ::
PETE MACKANIN

NEW HAVEN MANAGER :::
PAUL ZUVELLA

BOWIE BAYSOX
23 Alex Ochoa rf
18 Curtis Goodwin cf
6 Bo Ortiz lf
19 Rob Lukachyk 1b
20 Ed Alfonzo ss
9 Billy Owens dh
14 Jose Millares 2b
33 Scott McClain 3b
10 Kris Gresham c
45 Vaughn Eshelman p / LP
NEW HAVEN RAVENS
4 Quinton McCracken cf
1 Lamarr Rogers 2b
21 Fabio Gomez 3b
7 Lou List dh
25 Frank Bolick 1b
29 Angel Echevarria rf
24 Mike Case lf
34 Jorge Brito c
11 Billy White ss
17 Roger Bailey p / WP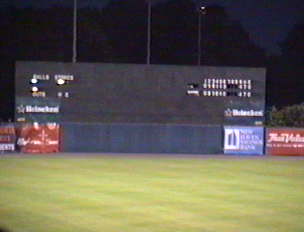 BAYSOX 000 100 000 1 5 2
RAVENS 020 101 00x 4 7 3
TIME ::: 2:44
ATTENDANCE ::: 3,509
WEATHER ::: WARM / MUGGY
SEND ME AN E-MAIL

LINKS
Located in Fairfield Ct. @ Exit 24 .. A great hot dog place .. Super Duper Weenie
West haven weather from WEATHER.com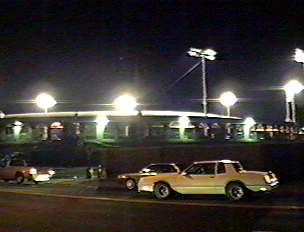 © 2000 - 2012 UNCLE BOB'S BALLPARKS I AM IN NO WAY AFFILIATED WITH ANY OF THE TEAMS ON THIS PAGE... THIS PAGE IS MEANT FOR INFORMATION PURPOSES ONLY.