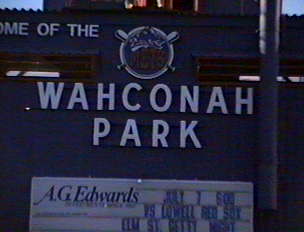 TEAM ::: PITTSFIELD METS
LOCATION ::: PITTSFIELD, MASSACHUSETTS
MY FIRST GAME ::: AUGUST 7,1994
OPPONENT ::: HUDSON VALLEY RENEGADES
LEVEL ::: NEW YORK / PENN LEAGUE A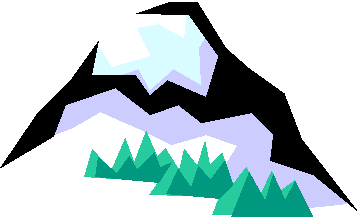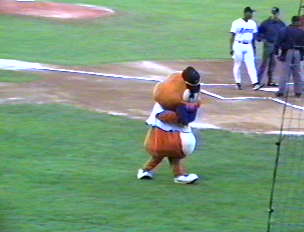 RATINGS
BALLFIELD ::: B
SCOREBOARD ::: C
FACILITIES ::: D+
FOOD ::: B
MASCOT ::: C
MY TAKE ON WAHCONAH PARK
ON THE WAY TO WAHCONAH PARK OFF THE MASS PIKE, YOU'LL TRAVEL THROUGH THE TOWNS OF LEE AND LENOX, TWO VERY CHARMING NEW ENGLAND TOWNS. THEN YOU HIT PITTSFIELD, WHERE I'VE ONLY VISITED ON THE WEEKENDS SO AS FAR AS I'VE SEEN, THE MAIN STREET DOESN'T HAVE MUCH GOING ON ...THERE ARE QUITE A FEW STOREFRONTS THOUGH I GUESS DURING THE WEEK THE TOWN S A LITTLE MORE ALIVE.

WAHCONAH PARK IS SET BEHIND A ROW OF HOUSES AND ACROSS FROM THE BERKSHIRE MEDICAL CENTER. PARKING IS A GRAVEL PARKING LOT, WHICH HAS A TENDENCY TO FLOOD SO BEWARE ON RAINY GAME DAYS.

THE PARK ITSELF FACES THE WEST, BECAUSE WHEN IT WAS BUILT THEY WANTED TO MAXIMIZE THE SUN FOR LATE AFTERNOON GAMES. THE RESULT OF FACING WEST ALSO MEANS THAT WAHCONAH PARK IS "HOME OF THE FAMOUS SUN DELAY." REMEMBER, THEY ONLY DELAY THE GAME BECAUSE THE SUN IS IN THE BATTER'S EYE. THEY SURE DON'T STOP IT BECAUSE IT'S IN THE FAN'S EYE. WHEN TRAVELING TO PITTSFIELD, DON'T FORGET YOUR SUNGLASSES, YOU WON'T BE ABLE TO SEE THE GAME WITHOUT THEM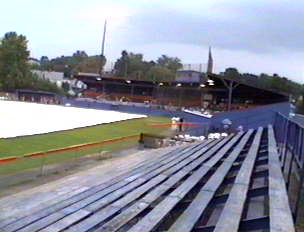 OTHER THAN THE SLOGAN, WAHCONAH PARK IS A VERY SIMPLE PLACE WITH ABSOLUTELY NO FRILLS. ONCE THROUGH THE GATE YOU WALK TO THE RIGHT FOR THE BATHROOMS OR TO THE LEFT FOR THE CONCESSIONS. NOT MUCH IN THE SELECTION AREA, HOWEVER THEY HAVE ADDED A SAUSAGE GRILL AND THE BARBEQUE SAUCE ISN'T BAD.

GOING TO A GAME IN PITTSFIELD IS A TRIP BACK IN TIME. WAHCONAH IS A CHARMING AND VERY OLD BALL PARK THAT PROBABLY DOESN'T HAVE MUCH LONGER TO BE AROUND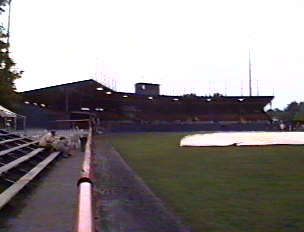 ***UPDATE 2001***
THIS IS THE FINAL YEAR FOR PITTSFIELD. THE ASTROS MOVED IN MAKING THE TEAM THE PITTSFIELD ASTROS AND THEY ARE MOVING TO TROY NEW YORK NEXT YEAR. IF YOU NEED MODERN AMENITIES THIS IS DEFINITLY NOT THE PLACE FOR YOU. HOWEVER, THERE STILL IS AN UNMISTAKABLE CHARM ABOUT THIS PLACE THAT I FEEL THE MINOR LEAGUES WILL MISS.

LINE UPS
HUDSON VALLEY MANAGER :::

11 DOUG SISSON


PITTSFIELD METS MANAGER :::

44 HOWIE FREILING
HUDSON VALLEY RENEGADES
20 Edward Comeaux rf
9 Erik Sauve 3b
8 Dom Gatti lf
25 Mark Little rf
45 Kevin Brown c
31 Kevin Millican dh
21 Matt Bokemier ss
16 Steve Larkin 1b
2 Ryan Rutz 2b
34 Reid Ryan p / LP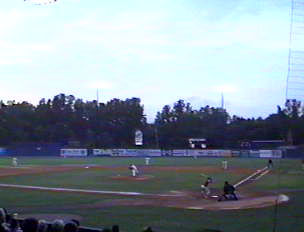 PITTSFIELD METS
21 Ryan Miller ss
3 Wicho Hernandez 2b
29 Jay Payton cf
40 Todd Whitehurst 3b
28 Jarrod Patterson 1b
43 Ben Boka c
30 Michael Johnson dh
24 Rocky Turner rf
1 Yudith Ozorio lf
32 Steve Arffa p / WP
13 Derek Baker S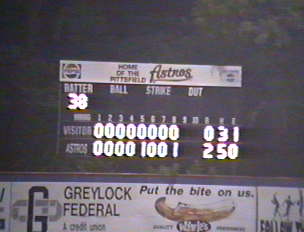 RENEGADES 000 000 003 3 5 1
PITTS METS 102 100 000 4 8 3
TIME ::: 2:36
ATTENDANCE ::: 1,270
WEATHER :: WARM / DAMP
SEND ME AN E-MAIL

LINKS
Pittsfield weather from WEATHER.com

© 2000-2012 UNCLE BOB'S BALLPARKS
I AM IN NO WAY AFFILIATED WITH ANY OF THE TEAMS ON THIS PAGE ... THIS PAGE IS MEANT FOR INFORMATION PURPOSES ONLY.