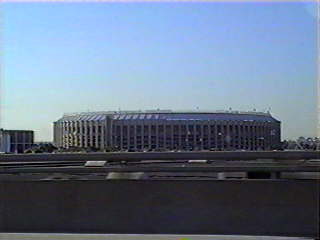 TEAM ::: PHILADELPHIA PHILLIES
LOCATION ::: PHILADELPHIA,PENNSYLVANIA
MY FIRST GAME ::: JUNE 2,1990
OPPONENT ::: NEW YORK METS
IMPLODED ::: MARCH 2004

RATINGS
BALLFIELD ... D
SCOREBOARD ... B
FOOD ... B
FACILITIES ... B
MASCOT ... A++
MLB STADIUM RANK ... 35 OF 40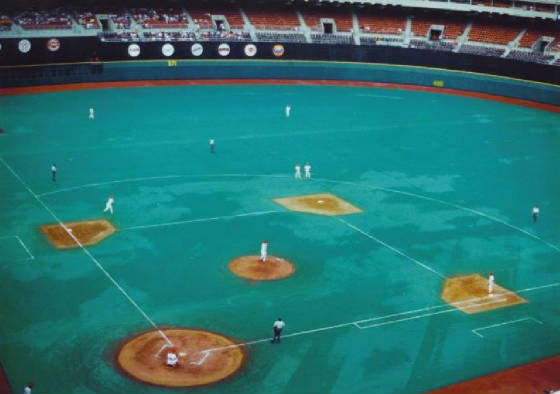 MY TAKE ON THE PARK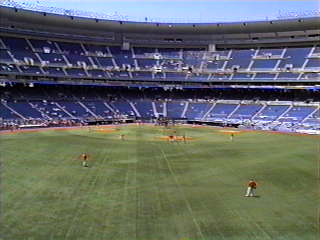 THERE'S NOT A LOT VERY POSITIVE ABOUT THIS STADIUM OTHER THAN THE FOOD AND THEY HAVE THE BEST MASCOT IN SPORTS.
THE FIELD IS NOTHING MORE THAN AN EYESORE. THE TURF HAS BEEN REPLACED A FEW TIMES OVER THE YEARS BUT THE FOOTBALL FIELD TAKES PRECEDENCE HERE. EVEN ON A HOT JULY AFTERNOON GAME, THE EAGLES LOGO IS CLEAR FOR ALL TO SEE BY SECOND BASE. HOWEVER, WITHOUT THE EAGLES LOGO, YOU PROBABLY WOULDN'T KNOW IF YOU WERE IN PHILLY,PITTSBURGH,OR CINCINNATI.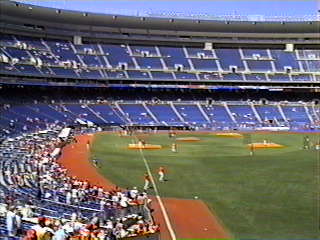 THE SCOREBOARD DOES THE JOB, AND THEY HAVE A BOARD THAT TRACKS EVERY PITCH, WHICH YOU CAN USUALLY SEE THE PITCHERS LOOKING AT AS WELL DURING THE GAME. THE FOOD HERE IS PRETTY GOOD AND THE PRICES ARE KIND OF REASONABLE.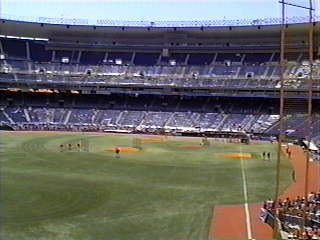 THE BEST REASON TO GO TO THE VET? IT'S THE PHILLY PHANATIC, OF COURSE. THE GUY NOW ISN'T AS GOOD AS THE ONE WHO NOW TOURS THE MINOR LEAGUES AS "SPORT", BUT JUST SEEING THE PHANATIC ON TOP OF THE DUGOUT HECKLING THE BATTER IS A LOT OF FUN.

OF THE 27 STADIUMS I'VE VISITED, I RATE VETERAN'S STADIUM 22nd, BEHIND SKYDOME BUT AHEAD OF RIVERFRONT. I THNK THEY TRY IN PHILLY, IT'S JUST THEY HAVE SO MUCH TO OVERCOME WHICH MAKES IT DIFFICULT FOR ME TO RATE IT ANY HIGHER.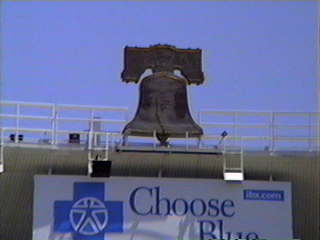 ***UPDATE****
THE VET WAS IMPLODED IN MARCH 2004 ... EVEN THOUGH THE NEW PLACE IS SO MUCH BETTER THAN THE VET, THERE WAS SOMETHING I ALWAYS LIKED ABOUT THE VET THAT KEPT ME GOING BACK EVERY YEAR.

THE LINE UPS
METS MANAGER ::: 3 BUD HARRELSON

PHILLIES MANAGER ::: 16 NICK LEYVA
NEW YORK METS
20 Howard Johnson 3b

7 Darryl Boston cf

9 Gregg Jefferies 2b

18 Darryl Strawberry rf

22 Kevin McReynolds lf

6 Mike Marshall 1b

2 Mackey Sasser c

21 Kevin Elster ss

16 Dwight Gooden p / LP
PHILADELPHIA PHILLIES
4 Lenny Dykstra cf

28 Tommy Herr 2b

9 Von Hayes rf

17 Ricky Jordan 1b

11 John Kruk lf

8 Charlie Hayes 3b

21 Dickie Thon ss

10 Darren Daulton c

43 Ken Howell p / WP

13 Roger McDowell S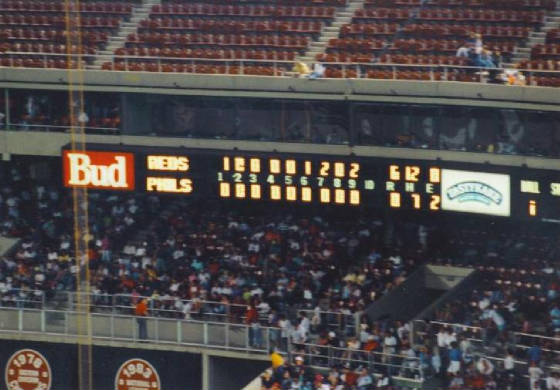 METS 002 000 101 4 9 0
PHILLIES 102 000 01x 5 10 0

TIME ::: 2:46
ATTENDANCE :: 41,950
WEATHER :::CLEAR, COOL
SEND ME AN E-MAIL

LINKS
The Official site of the Philadelphia Phillies
Where the Phillies play now .. My Citizens Bank Park site
The best Cheesesteaks in Philadelphia - Geno's Steaks
Less than an hour away .. The Wilmington Blue Rocks
The Double A Phillies - The Reading Phillies
From the Phanatic's Homeland - The Galapagos Islands
Philadelphia weather from WEATHER.com

© 2000-2012 UNCLE BOB'S BALLPARKS
I AM IN NO WAY AFFILIATED WITH ANY OF THE TEAMS ON THIS PAGE ... THIS PAGE IS MEANT FOR INFORMATION PURPOSES ONLY.