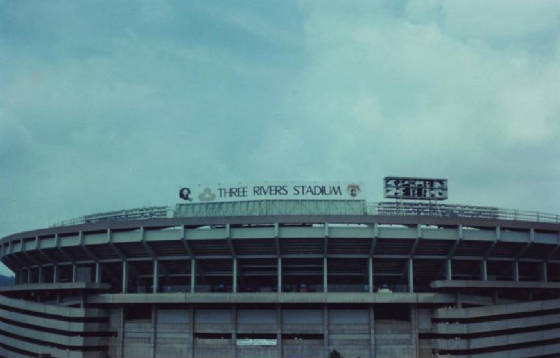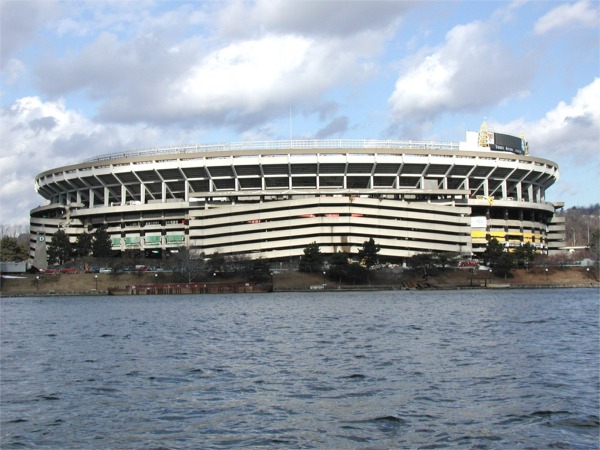 TEAM ::: PITTSBURGH PIRATES
LOCATION::: PITTSBURGH, PENNSYLVANIA
MY FIRST GAME ::: AUGUST 6, 1989
OPPONENT ::: CHICAGO CUBS
IMPLODED ::: FEBRUARY 2001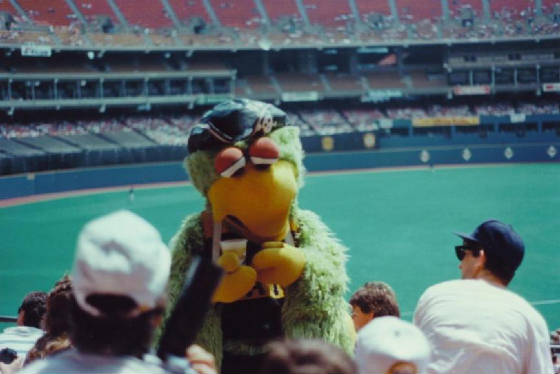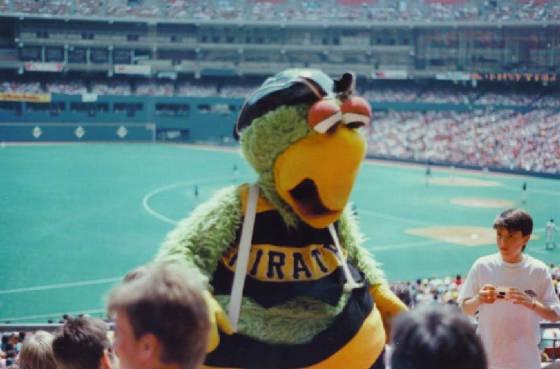 RATINGS
BALLFIELD ::: D
SCOREBOARD ::: C
FOOD ::: B
FACILITIES ::: C
MASCOT ::: A
MLB STADIUM RANK :: 36 OUT OF 40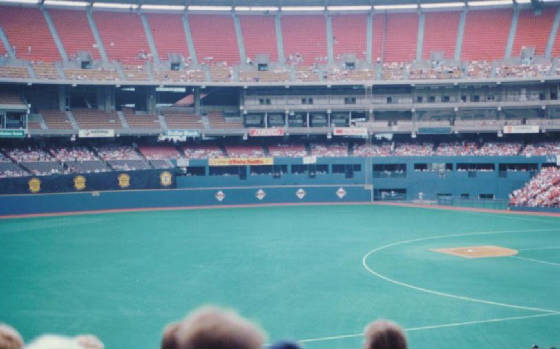 MY TAKE ON THE PARK
I ONLY ATTENDED ONE GAME AT THREE RIVERS, THE ONE GAME WHICH HAPPENED TO BE THE LONGEST GAME IN THREE RIVER STADIUM'S HISTORY.

I REMEMBER EVERYONE FROM THE TICKET TAKERS TO THE USHERS TO THE PIRATE FANS BEING VERY NICE.

I HAD A LONG WALK TO THE GAME, NOT BECAUSE THE PIRATES WERE PLAYING BUT BECAUSE THERE WAS A REGATTA GOING ON, THOSE THINGS DRAW HUGE CROWDS IN THE THREE RIVERS AREA.
I WILL SAY THAT IT WAS A COOKIE CUTTER THAT REALLY MADE NO IMPACT ON ME, EXCEPT FOR THE WONDERFUL PEOPLE AND THE SURPRISE THAT THE STEEL CITY WAS CLEAN AND CLEAR.

OF THE 27 MAJOR LEAGUE PARKS I'VE VISITED I RATE THIS ONE 24th, AHEAD OF OLYMPIC STADIUM BUT BEHIND RIVERFRONT.
THE LINE UPS
CUBS MANAGER :::
4 Don Zimmer

PIRATES MANAGER :::
10 Jim Leyland
CHICAGO CUBS
20 Jerome Walton cf
23 Ryne Sandberg 2b
18 Dwight Smith lf
17 Mark Grace 1b
8 Andre Dawson rf
2 Vance Law 3b
12 Shawon Dunston ss
7 Joe Girardi c
41 Jeff Pico p
21 Scott Sanderson LP
PITTSBURGH PIRATES

24 Barry Bonds lf

13 Jose Lind 2b

18 Andy Van Slyke cf

25 Bobby Bonilla 3b

23 R. J. Reynolds rf

12 Mike LaValliere c

7 Jeff King 1b

3 Jay Bell ss

49 Jeff Robinson p

15 Doug Drabek WP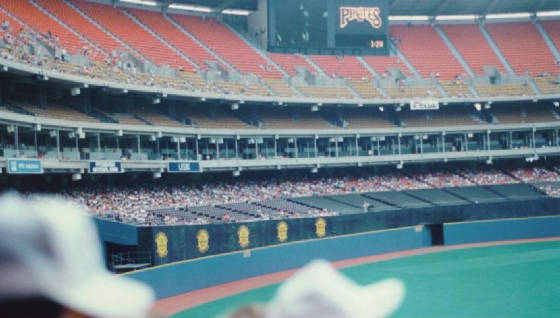 CUBS 110 001 000 000 000 001 4 14 0
PIRATES 300 000 000 000 000 002 5 13 1

TIME ::: 5:42
ATTENDANCE ::: 24,716
WEATHER ::: SUNNY / HOT
SEND ME AN E-MAIL

LINKS
The Official site of the Pittsburgh Pirates
The Web site of Three Rivers Stadium
Where they play now ... My PNC Park site
Pittsburgh weather from WEATHER.com

© 2000-2012 UNCLE BOB'S BALLPARKS
I AM IN NO WAY AFFILIATED WITH ANY OF THE TEAMS ON THIS PAGE ... THIS PAGE IS MEANT FOR INFORMATION PURPOSES ONLY.