A LOOK BACK AT THREE RIVERS STADIUM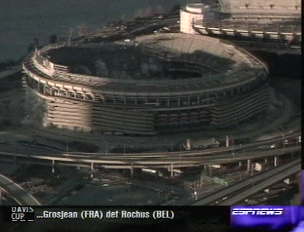 THIS MORNING I FOUND OUT THAT THREE RIVERS STADUM WAS IMPLODED .. I WISH I KNEW SOONER.

MY FIRST VISIT TO THREE RIVERS WAS ON AN EXTREMLY HOT AUGUST SUNDAY AFTERNOON. I WAS ON MY WAY TO VISIT COUSIN TIM IN DAYTON AND COULD NOT RESIST THE LURE OF A 1:35 CUBS / PIRATES GAME. MUCH TO THE PROTEST OF MY MOM, I WENT TO THIS STADIUM. I PARKED ABOUT 9 BLOCKS AWAY IN A DIRT LOT CURIOUS IF I WOULD GET IN. AS I TOOK THE LONG HIKE FROM MY CAR I MET UP WITH OTHERS WHO WERE WALKING TOWARDS THE STADIUM, FUNNY THING WAS, THEY WERE GOING TOWARDS THE WATER. THERE WAS A HUGE REGATTA GOING ON AND PEOPLE FOUND THIS MORE IMPORTANT THAN THE PIRATES.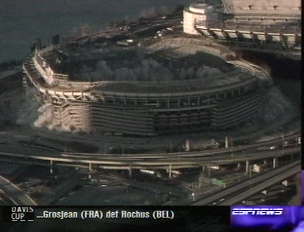 ABOUT 2 BLOCKS FROM THE STADIUM, EVERYONE GOT QUIET AND LOOKED AT THE PRACTICE FOOTBALL FIELD, PRETTY SOON I OVERHEARD SOME PEOPLE SAYING ... YES, IT WAS A HOT AUGUST DAY, BUT FOOTBALL WAS ON THE MIND OF THESE BOATING LOVERS.
WHEN I GOT TO THE GATE, I HANDED MY CAMERA BAG TO THE USHER BEYOND THE GATE, HE SMILED AND THEN IN A JOLLY TONE NOTED THAT I DIDN'T LOOK LIKE TROUBLE.
I SAT IN MY SEAT, I BELIEVE IT WAS ABOUT 95 DEGREES AND I WAS SO FORTUNATE AS TO BE SITTING IN THE SUN. LOOKING AROUND, THERE WAS A BEACH ATMOSPHERE WITH COOLERS IN MOST EVERY ROW.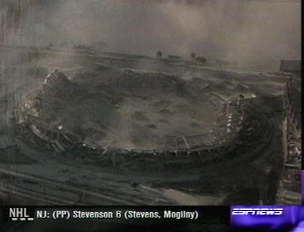 IT WAS A CLOSE GAME, IN ABOUT THE 8TH INNING VERY DARK CLOUDS WERE HANGING OVER HEAD AND THAT BREEZE WAS BLOWING. YOU KNOW THE BREEZE, STORMS A BREWING ... SO, WITH THE THOUGHT OF AN ADDITIONAL 5 HOURS ON THE ROAD, I PACKED UP MY GEAR AND HEADED OUT, DON ZIMMER WAS TAKING THE SLOWEST WALK IN HISTORY TO THE MOUND AS I LEFT.
MOMENTS AFTER I GOT INTO THE CAR, THE STORM HIT ... THE GAME WAS DELAYED AND FOR THE FIRST TIME I HEARD THE TEST FROM THE EMERGENCY BROADCASTING STATION FOLLOWED BY AN EMERGENCY MESSAGE. IT WAS PRETTY SCARY AS I HEADED INTO WHEELING, WEST VIRGINIA. BACK TO THE GAME, IT RESUMED AFTER ABOUT AN HOUR DELAY AND PROCEEDED TO GO 18 INNINGS ... THIS IS WHY I WILL NEVER LEAVE A GAME AGAIN.
AS FAR AS BASEBALL IS CONCERNED, NOTHING MEMORABLE STANDS OUT IN THE STADIUM SENSE, BUT I WILL NEVER FORGET THIS COOKIE CUTTER STADIUM WITH THE SKULL AND CROSSBONE PIRATE FLAG HANGING ABOVE IT.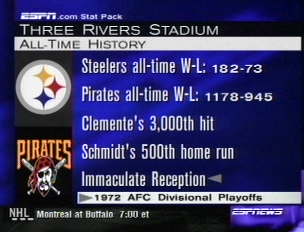 MY SECOND VISIT TO THREE RIVERS CAME LESS THAN 4 MONTHS LATER IN DECEMBER OF THE SAME YEAR, 1989
TALK ABOUT A TOTAL OPPOSITE FROM THE FIRST VISIT. THE WEATHER WAS COLD AND THE GAME WAS PLAYED IN A SNOWSTORM. THREE RIVERS HAD THE SAME LOOK TO IT BUT NOTHING ELSE DID. THE ONLY THING I'LL EVER REMEMBER ABOUT THAT GAME WAS STANDING UP IN THE LAST ROW AND HAVING A 30 MILE AN HOUR WIND GUST HIT ME IN THE BACK OF THE HEAD. IT WAS A GAME MARRED IN INSTANT REPLAYS WHICH MADE THIS 1 O'CLOCK START LAST UNTIL 5:20 ... A GREAT TIME ON A CHILLY OCTOBER DAY ... A NIGHTMARE ON A BITTER COLD DECEMBER AFTERNOON.
WE DROVE BY THREE RIVERS IN '91, BUT THERE WASN'T A GAME GOING ON.
AS FAR AS STADIUMS GO, WE STILL HAVE THE VET IN PHILLY BUT FOR SOME REASON, I WILL MISS THE STADIUM SET ALONG THE OHIO, ALLEGHENY, AND MONONGAHELA RIVERS.

PNC PARK, ANYONE UP FOR A SUMMER ROAD TRIP???