TEAM ... MONTREAL EXPOS
LOCATION ... MONTREAL, QUEBEC
MY FIRST GAME ... MAY 18,1992
OPPONENT ... CINCINNATI REDS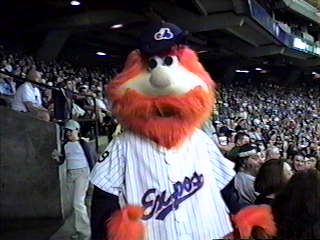 RATINGS
BALLFIELD ... C
SCOREBOARD ... B
FOOD ... B+
FACILITIES ... B
MASCOT ... A
MLB STADIUM RANK 38 OF 41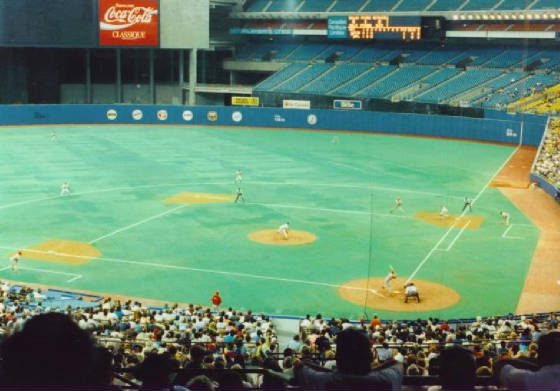 MY TAKE ON THE PARK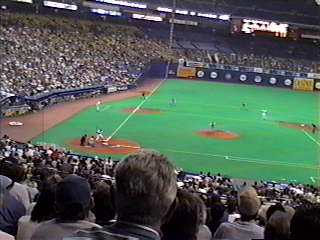 WHAT THE HECK IS THIS PLACE?? THEY PLAY BASEBALL IN SPACESHIPS IN CANADA, OR JUST 21ST CENTURY VESSELS.

THERE ISN'T MUCH TO RAVE ABOUT AS FAR AS BALLPARKS GO, HOWEVER, THEY REALLY SEEM TO TRY. AFTER MY FIRST VISIT I'D PROBABLY RATE THIS PARK LAST BUT, AFTER A RECENT TRIP IT SCORED A FEW POINTS FOR ME. IT'S JUST A SHAME THAT PRESENTLY THEY HAVE NO TELEVSION CONTRACT AND NO ENGLISH RADIO STATION. ALL THIS IN A CITY THAT DOESN'T START TO WATCH BASEBALL UNTIL LATE JUNE AND ABANDONS BASEBALL IN MID SEPTEMBER. BUT, WHAT DO THEY HAVE TO ROOT FOR?? A TEAM THAT HAS PLAYER TURNOVER LIKE A MINOR LEAGUE FRANCHISE.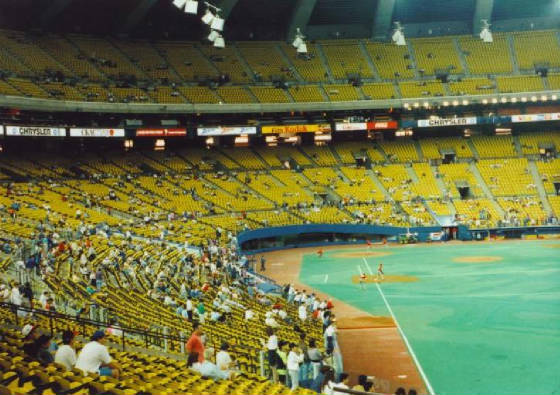 SOMETHING THAT SHOULD BE DONE WHEN IN THE MONTREAL AREA IS LISTEN TO A BALLGAME IN FRENCH ON THE RADIO, YOU'LL BE SURPRISED HOW YOU CAN FOLLOW IT. WHAT MONTREAL DOES DO VERY WELL IS COMBINE THE TWO LANGUAGES. AS INTRUSIVE AS ONE WOULD THINK IT WOULD BE, IT REALLY WORKS IN MONTREAL.

OF THE 27 PARKS I'VE VISITED I RATE OLYMPIC STADIUM 25TH, BEHIND THREE RIVERS AND AHEAD OF TROPICANA. THE PLACE GETS POINTS FOR TRYING, HAVING DECENT FOOD, GREAT BEER, AND THE CHEAPEST PRICES IN ALL OF BASEBALL.
THE LINE UPS
REDS MANAGER :::
41 LOU PINIELLA

EXPOS MANAGER ::
10 TOM RUNNELLS
CINCINNATI REDS
10 Leon Roberts lf
11 Barry Larkin ss
21 Paul O'Neil rf
17 Chris Sabo 3b
23 Hal Morris 1b
19 Bill Doran 2b
30 Dave Martinez cf
9 Joe Oliver c
27 Jose Rijo p
25 Scott Bankhead WP
37 Norm Charlton S
MONTREAL EXPOS
4 Delino DeShields 2b
25 Bret Barberie 3b
18 Moises Alou cf
33 Larry Walker rf
8 Gary Carter c
23 John VanderWal lf
14 Archi Cianfrocco 1b
11 Spike Owen ss
28 Mark Gardner p / LP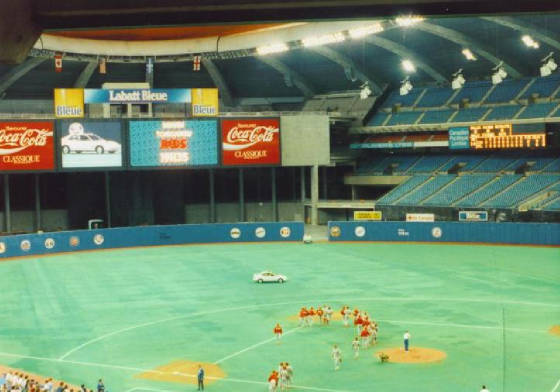 REDS 010 000 100 2 9 2
EXPOS 100 000 000 1 6 0

TIME ::: 2:45
ATTENDANCE ::: 13,470
WEATHER ::: INDOORS
SEND ME AN E-MAIL

LINKS
Who they are now .. The Official site of the Washington Nationals
Montreal weather from WEATHER.com

© 2000-2012 UNCLE BOB'S BALLPARKS
I AM IN NO WAY AFFILIATED WITH ANY OF THE TEAMS ON THIS PAGE ... THIS PAGE IS MEANT FOR INFORMATION PURPOSES ONLY.