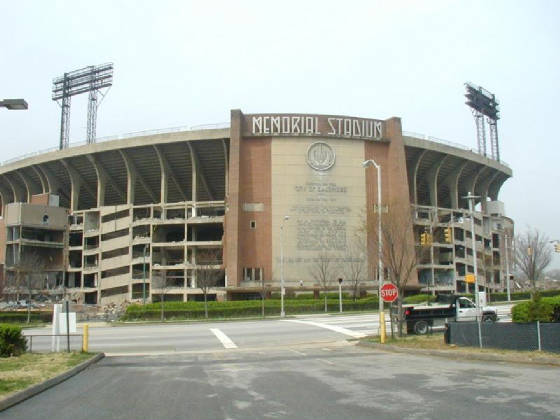 TEAM ::: BALTIMORE ORIOLES
LOCATION ::: BALTIMORE, MARYLAND
MY FIRST GAME ::: JULY 14,1988
OPPONENT ::: MINNESOTA TWINS
DEMOLISHED ::: 2001
RATINGS
BALLFIELD ::: B
SCOREBOARD ::: C
FOOD ::: B
FACILITIES ::: C
MASCOT ::: A
MLB STADIUM RANK 13 OF 40
MY TAKE ON THE PARK
AHHH, BALTIMORE BASEBALL BEFORE CAMDEN YARDS. LOOKING AT MY RATINGS FOR THIS PLACE, YOU WOULD THINK I HATED IT ... JUST THE OPPOSITE, THIS WAS ONE OF MY FAVORITE PARKS.

FOR THE 'TOURIST' THE BIGGEST PROBLEM WITH MEMORIAL STADIUM WAS LOCATION. THIS WAS A NEIGHBORHOOD PARK WITH NO DIRECT ACCESS FROM AN INTERSTATE. ONCE AT THE PARK, IF YOU MADE ONE WRONG TURN YOU WERE EITHER AT THE JAIL,WHICH WAS RIGHT AROUND THE CORNER, OR JUST LOST WITHOUT A VIEW OF THE STADIUM.
HOWEVER, ONCE PARKED, MEMORIAL STADIUM WAS 100% CHARM. THE FIRST PERSON YOU MEET IS THE TICKET TAKER. UNLIKE SHEA, THESE GUYS ARE HAPPY TO SEE YOU. THEY GREET YOU WITH A SMILE AND AN ENJOY THE GAME. I FELT WELCOME FROM THE SECOND I ARRIVED.

IN THE STANDS, THE BIGGEST PROBLEMS WERE THE PILLARS. BIG ROUND ONES AT THAT. IF THERE WAS A REASON TO BUILD CAMDEN YARDS, THE ABSENCE OF PILLARS IS AS GOOD A REASON AS ANY. OTHER THAN THAT, MEMORIAL STADIUM WAS A FRIENDLY PLACE THAT WILL BE MISSED BY ME.

OF THE 40 PARKS I HAVE VISITED, I RATE MEMORIAL STADIUM 12TH, BEHIND TIGER STADIUM AND AHEAD OF YANKEE STADIUM. IN MY EYES, A LITTLE CHARM GOES A LONG WAY, AND IN BALTIMORE THE PEOPLE WERE THE SAME IN THE OLD PLACE AS THEY ARE IN THE NEW.
LINE UPS

TWINS MANAGER :::
10 Tom Kelly

ORIOLES MANAGER :::
20 Frank Robinson

MINNESOTA TWINS
27 Mark Davidson lf
25 Randy Bush rf
34 Kirby Puckett cf
14 Kent Hrbek 1b
8 Gary Gaetti 3b
9 Gene Larkin dh
15 Tim Laudner c
7 Greg Gagne ss
4 Steve Lombardozzi 2b
28 Bert Blyleven p / LP
BALTIMORE ORIOLES
38 Ken Gerhart lf
19 Fred Lynn cf
8 Cal Ripken Jr. ss
33 Eddie Murray dh
28 Jim Traber 1b
18 Larry Sheets rf
15 Terry Kennedy c
25 Rick Schu 3b
7 Bill Ripken 2b
52 Mike Boddicker p / WP
TWINS 100 000 000 1 6 2
ORIOLES 311 200 00x 7 11 0


TIME OF GAME :: 2:14
ATTENDANCE :: game 1
WEATHER :: 93, hot / muggy
G A M E 2
MINNESOTA TWINS
1 John Moses cf
7 Greg Gagne ss
32 Dan Gladden lf
14 Kent Hrbek dh
9 Gene Larkin 1b
25 Randy Bush rf
12 Bran Harper c
4 Steve Lombardozzi 2b
26 Al Newman 3b
49 Alan Anderson p / WP
BALTIMORE ORIOLES
17 Pete Stanicek lf
8 Cal Ripken Jr. ss
33 Eddie Murray dh
14 Mickey Tettleton c
38 Ken Gerhart cf
28 Jim Traber 1b
19 Fred Lynn lf
25 Rick Schu 3b
7 Bill Ripken 2b
53 Jay Tibbs p / LP
GAME 2

TWINS 001 006 100 8 1 0
ORIOLES 001 100 000 2 6 0


TIME :: 2:49
ATTENDANCE :: 29,578
WEATHER :: 91, HOT MUGGY
SEND ME AN E-MAIL

LINKS
The Official web site of the Baltimore Orioles
What has happened to this Stadium
Where they play now .. My Oriole Park @ Camden Yards site
Baltimore weather from WEATHER.com

© 2000-2013 UNCLE BOB'S BALLPARKS
I AM IN NO WAY AFFILIATED WITH ANY OF THE TEAMS ON THIS PAGE ... THIS PAGE IS MEANT FOR INFORMATION PURPOSES ONLY.