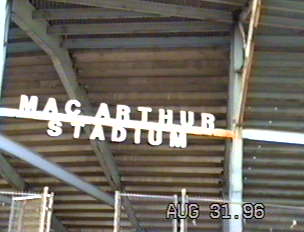 TEAM ::: SYRACUSE CHIEFS
LOCATION ::: SYRACUSE, NEW YORK
MY FIRST GAME ::: AUGUST 31, 1996
< THE FINAL WEEKEND FOR THIS STADIUM >
OPPONENT ::: PAWTUCKET RED SOX
LEVEL ::: INTERNATIONAL LEAGUE AAA

RATINGS
BALLFIELD ::: B
SCOREBOARD ::: C
FOOD ::: C
FACILITIES ::: C
MY TAKE ON THE PARK
IF THERE IS ANY PLACE BETTER THAN UPSTATE NEW YORK FOR BASEBALL I HAVEN'T SEEN IT. EVERY TIME I HAVE TRAVELED NORTH OF EXIT 15 ON THE NYS THRUWAY FOR BASEBALL I HAVE GOTTEN A REAL BASEBALL EXPERIENCE. MacARTHUR STADIUM WAS NO DIFFERENT.

I ONLY MADE IT TO ONE GAME IN THIS CLASSIC PARK, AND THAT GAME WAS DURING THE FINAL CRACK AT BIG MAC. THE FINAL WEEKEND OF GAMES HERE AND THE PLACE KIND OF LOOKED LIKE IT JUST WANTED IT ALLTO END. EVERYTHING HERE WAS OLD AND IT LOOKED IT. THEY KNEW THEY WERE GETTING A NEW PLACE SO WHY SPEND ANY TIME KEEPING THE PLACE LOOKING GOOD?? A COAT OF PAINT COULD HAVE LIVEND THE PLACE UP A BIT BUT AGAIN, WHY MAKE THE OLD PLACE LOOK GOOD WHEN YOU HAVE A BRAND NEW ONE GOING UP ACROSS THE STREET.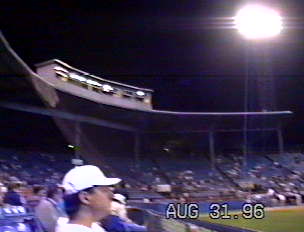 WHAT MADE MacARTHUR STADIUM GREAT WERE THE FANS. A VERY KNOWLEDGABLE GROUP OF PEOPLE WHO LOVED THEIR CHIEFS. LISTENING TO THEM, THEY KNEW THE UMPIRES AND PLAYER'S HISTORIES. I COULD TELL ALL OF THIS BY THE WAY THEY HECKLED. TO BE A GOOD HECKLER, YOU HAVE TO HAVE KNOWLEDGE OF WHAT YOUR HECKLING AND NOT JUST BE VULGAR.

AN ASPECT OF THE OLD PLACE WHICH WILL BE MISSED IS THE 434 CENTER FIELD DISTANCE. THAT CENTER FIELD DISTANCE ALLOWED FOR A LOT OF EXCITING EXTRA BASE HITS HERE.
ALSO TO BE MISSED WERE THOSE LIGHT TOWERS. THERE ARE PICTURES OF BABE RUTH IN SYRACUSE AND THE LIGHT TOWERS ARE IN THE BACKGROUND.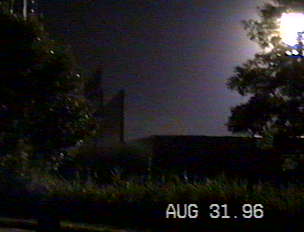 THE NEW PLACE IS VERY STERILE, CEMENT, ALUMINUM, AND ARTIFICIAL TURF. HOW CAN THE PEOPLE OF SYRACUSE ACCEPT TURF AFTER GOING TO MacARTHUR FOR ALL THESE YEARS??
LINE UPS
RED SOX MANAGER ::
26 BUDDY BAILEY
CHIEFS MANAGER ::
18 RICHIE HEBNER
PAWTUCKET RED SOX
19 Dwayne Hosey cf
31 Tony Rodriguez ss
33 Bo Dodson 1b
35 Jose Malave rf
29 Bill Selby if
7 Lou Merloni 2b
12 Scott Hatteberg dh
27 Arquimedez Pozo 3b
28 Dana Levangie c
34 Brent Knackert p
24 Jim Austin LP
SYRACUSE CHIEFS
11 Scott Pose rf
13 Miguel Cairo 2b
25 Shannon Stewart cf
34 Felix Jose dh
40 Felipe Crespo 3b
39 Chris Weinke 1b
24 John Ramos c
19 Rickey Cradle lf
27 Jeff Ware p
6 Ken Robinson WP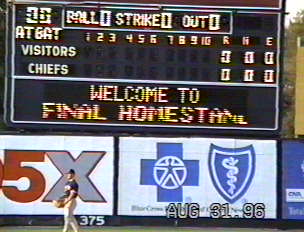 PAWTUCKET RED SOX 000 113 110 00 7 11 2
SYRACUSE CHIEFS 001 410 001 01 8 11 1
TIME ::: 4:10
ATTENDANCE ::: 5,458
WEATHER ::: 77 CLEAR, COOL
DIMENSIONS ::: LF: 320 CF: 434 RF: 320
SEND ME AN E-MAIL

LINKS
Where the Syracuse Skychiefs play now, My Alliance Bank Stadium page
Syracuse weather from WEATHER.com

© 2000 - 2012 UNCLE BOB'S BALLPARKS
I AM IN NO WAY AFFILIATED WITH ANY OF THE TEAMS ON THIS PAGE ... THIS PAGE IS MEANT FOR INFORMATION PURPOSES ONLY.