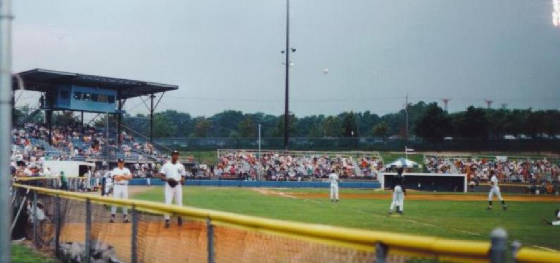 TEAM ::: ALBANY - COLONIE YANKEES
LOCATION ::: ALBANY, NEW YORK
MY FIRST GAME ::: AUGUST 10, 1993
OPPONENT ::: NEW BRITAIN RED SOX
LEVEL ::: EASTERN LEAGUE AA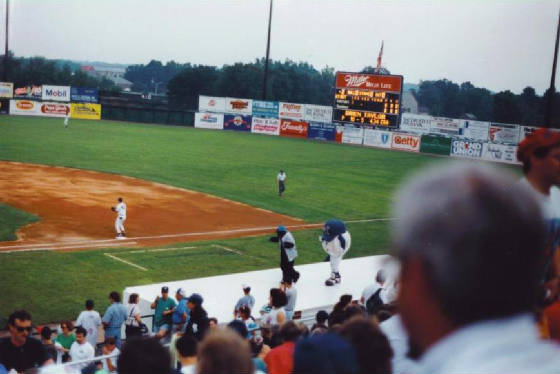 RATINGS
BALLFIELD ::: B
SCOREBOARD ::: D
FOOD ::: C
FACILITIES ::: C
MASCOT ::: D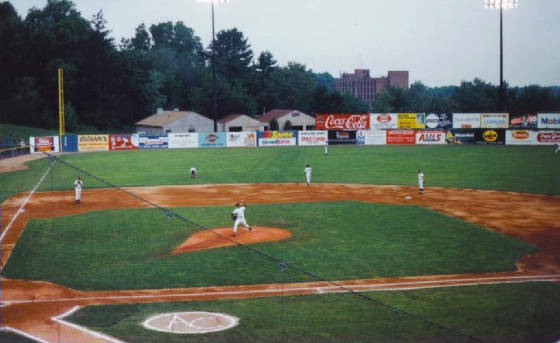 MY TAKE ON THE PARK
BACK IN '93, THE REASON TO TAKE A TRIP TO SEE THE A/C YANKEES WAS TO SEE THE CAN'T MISS FUTURE PHENOM, BRIEN TAYLOR. WELL, ONCE AT THE GAME YOU KNEW THAT THE ONLY REASON TO GO BACK WOULD BE FOR THE NEXT PHENOM. IT'S OBVIOUS THE YANKEES FELT THE SAME WAY BECAUSE THEY PULLED OUT OF ALBANY, NEW YORK TWO YEARS LATER.

AT THE GAME, YOU PARKED BEYOND THE OUT FIELD WALL AND WALKED TOWARDS THE STADIUM TO A MAKE SHIFT TURNSTILE ENTRANCE. WALKING IN, THE BRICK STRUCTURE YOU WERE WALKING PAST WAS THE YANKEE LOCKER ROOM. I KNEW THIS BECAUSE A FEW OBNOXIOUS FOOLS THOUGHT THAT IT WOULD BE FUNNY TO CONTINUOUSLY BANG ON THE DOOR TRYING TO GET A PLAYER TO COME OUT FOR AN AUTOGRAPH. SMART FANS IN ALBANY, HUH??

INSIDE, THE FANS CAN ONLY SIT DOWN THE FIRST BASE SIDE OR IN A SMALL GRAND STAND BEHIND HOME PLATE. BUT IF YOU GO, YOU'LL SIT ALONG THE FIRST BASE SIDE. THE SEATS ARE SMALL ALUMINUM BLEACHERS AND ARE UNCOMFORTABLE. MAYBE THAT WAS THE REASON THAT THIS WAS THE FIRST GAME I HAVE EVER GONE TO THAT THE ATTENDENCE WAS NOT ANNOUNCED.

MINOR LEAGUE BASEBALL HAS RETURNED TO THE ALBANY. THE TEAM IS NOW IN TROY, NY, THE TRI - CITY VALLEY CATS AND I HAVE TO SAY, MY FIRST EXPERIENCE WITH ALBANY WAS NOT THE NORM. THE PLACE IN TROY IS A GREAT PLACE TO SEE A GAME AND A PLACE I RETURN TO ANNUALLY.
THE LINE UPS
RED SOX MANAGER :::
20 JIM PANKOVITS

YANKEES MANAGER :::
52 BILL EVERS


NEW BRITAIN RED SOX
2 Tony Rodriguez ss
28 Alex Delgado c
33 Jim Crowley 3b
15 Bryan Brown lf
48 Bruce Chick rf
25 Boo Moore dh
34 Mike Beams cf
38 Jason Friedman 1b
27 Scott Bethea 2b
32 Brent Hansen p / LP
ALBANY - COLONIE YANKEES
24 Rich Barnwell cf
19 Carlos Rodriguez ss
44 Jalal Leach rf
34 Kevin Jordan 2b
45 Lyle Mouton lf
41 Joe DeBerrry 1b
40 Tim Flannelly dh
18 Jose Pineda c
39 Andy Fox 3b
30 Brien Taylor p / WP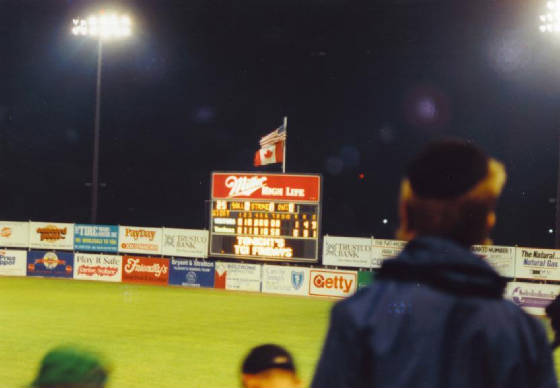 RED SOX 010 000 000 1 4 3
YANKEES 011 010 050 8 9 1


TIME ::: 2:30
ATTENDANCE ::: ???
WEATHER ::: WARM
SEND ME AN E-MAIL

LINKS
YouTube video - Heritage Park 2008
YouTube video - Another view of Heritage Park in 2008
The team that now plays in the Albany area - The Official site of the Tri-City Valley Cats
My Joseph Bruno site, where the Valley Cats play
Albany weather from WEATHER.com

© 2000-2013 UNCLE BOB'S BALLPARKS
I AM IN NO WAY AFFILIATED WITH ANY OF THE TEAMS ON THIS PAGE ... THIS PAGE IS MEANT FOR INFORMATION PURPOSES ONLY.