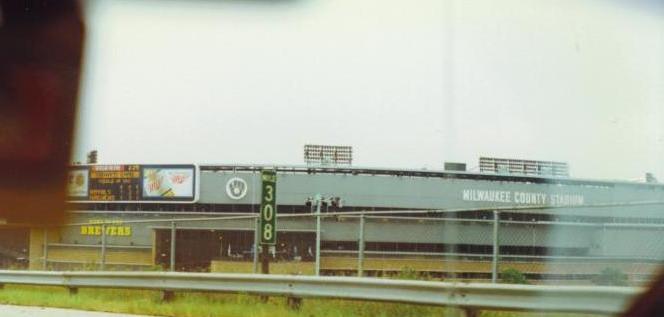 TEAM ::: MILWAUKEE BREWERS
LOCATION ::: MILWAUKEE, WISCONSIN
MY FIRST GAME ::: AUGUST 20,1990
OPPONENT ::: CLEVELAND INDIANS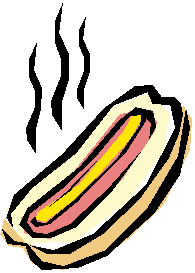 RATINGS
BALL FIELD ... C
SCOREBOARD ... A-
FOOD ... A++
FACILITIES ... B
MASCOT .... A
MLB STADIUM RANK ... 27 OUT OF 40
MY TAKE ON THE PARK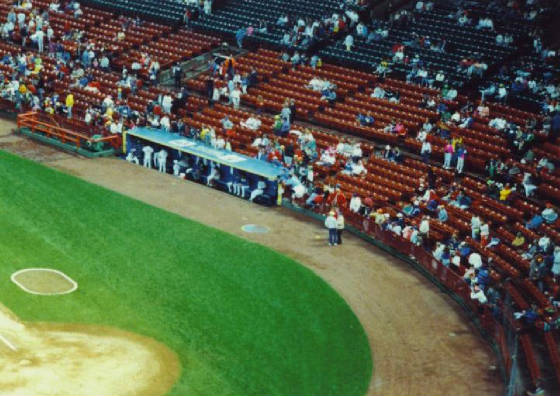 MILWAUKEE COUNTY STADIUM WAS REALLY A GREAT PLACE. SURROUNDED BY A HUGE PARKING LOT, SOMETHING I HADN'T SEEN SINCE SHEA, THE STADIUM SITS AWAITING TAILGATERS ON A RAINY MONDAY NIGHT IN MILWAUKEE.
YES, HERE ON THE EAST COAST WE THINK WE TAILGATE, IN MILWAUKEE, THEY TAILGATE. THERE IS A PIT IN THE PARKING LOT JUST FOR THIS PURPOSE. AND WITH THE MILLER BREWERY RIGHT UP THE STREET, THE BEER IS AS FRESH AS IT IS COLD.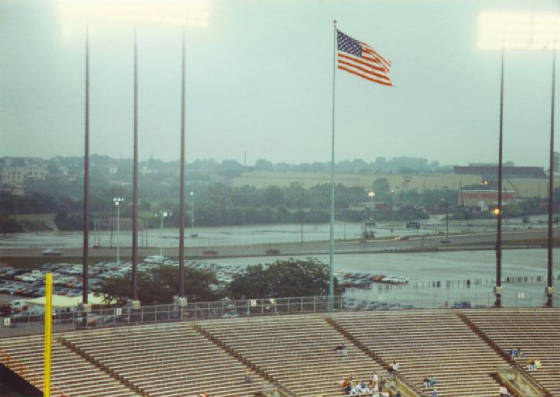 UPON ENTERING THE STADIUM, THE SMELL OF BAKING BREAD HITS YOU, WHY IT'S THE COUNTY STADIUM BAKERY, SERVING ROLLS AND PASTRIES. BUT, I'M HERE FOR A BALLGAME AND IN MILWAUKEE, YOU HAVE A BRAT. I WALK TO THE COUNTER AND ASK FOR A BRAT, WITH COUNTY STADIUM SAUCE, OF COURSE. A LARGE WOMAN BEHIND THE COUNTER ASKS IN A VERY SERIOUS TONE "YOU WANT BEER WITH THIS??"
"YES I DO" I REPLIED AND STARTED TO EAT THE MOST AMAZING BALLPARK FOOD SINCE COMISKEY. I'VE HAD GOOD BALLPARK FOOD BEFORE BUT NOTHING THAT COMPARES TO THE FOOD IN MAILWAUKEE.
THE OTHER FUN FEATURE IN MILWAUKEE HAPPENS WHEN A HOME RUN IS HIT. AT THAT TIME, BERNIE BREWER SLIDES OUT OF HIS HOUSE AND INTO A MUG OF BEER. IT'S FUN.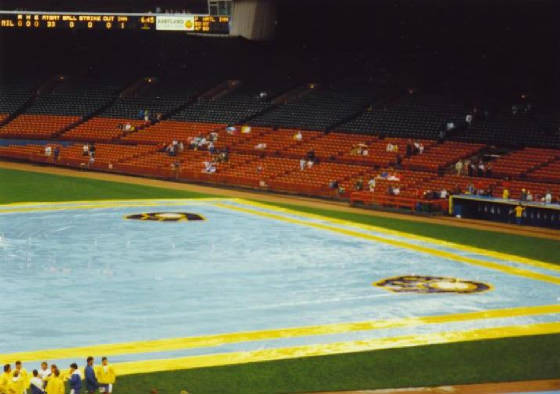 OF THE 27 BALLPARKS I'VE VISITED, I RANK COUNTY STADIUM 16TH BEHIND SHEA BUT AHEAD OF THE NEW PLACE, MILLER PARK. IT WAS THE FIRST STADIUM I VISITED THAT DIDN'T SING "TAKE ME OUT TO THE BALLGAME" DURING THE 7TH INNING, THIS IS MILWAUKEE, BREW TOWN! HERE THEY SING "ROLL OUT THE BARRELL" AT COUNTY STADIUM, YOU'LL HAVE A BARRELL OF FUN.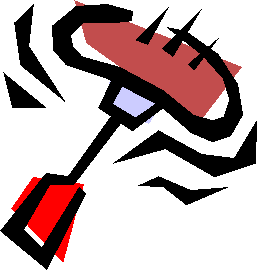 THE LINE UPS
CLEVELAND INDIANS MANAGER ....
1 JOHN MCNAMARA

MILWAUKEE BREWERS MANAGER ...
42 TOM TREBELHORN

CLEVELAND INDIANS

2 Alex Cole cf

14 Jerry Browne 2b

20 Dion James 1b

22 Candy Maldonado lf

7 Chris James dh

26 Brook Jacoby 3b

28 Cory Snyder rf

15 Sandy Alomar c

16 Felix Fermin ss

40 Bud Black p

31 Steve Olin LP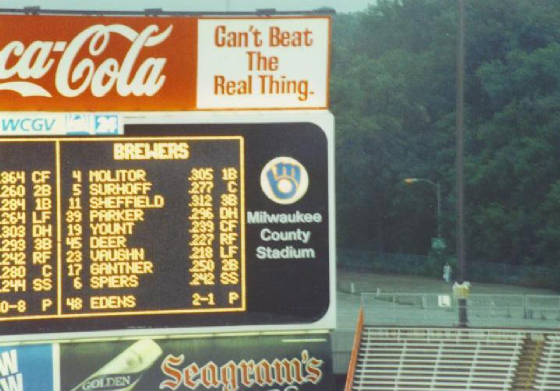 MILWAUKEE BREWERS

4 Paul Molitor 1b

5 B.J. Surhoff cf

11 Gary Sheffield 3b

39 Dave Parker dh

19 Robin Yount cf

45 Rob Deer rf

23 Greg Vaughn lf

17 Jim Gantner 2b

6 Bill Spiers ss

48 Tom Edens p / WP

32 Chuck Crim S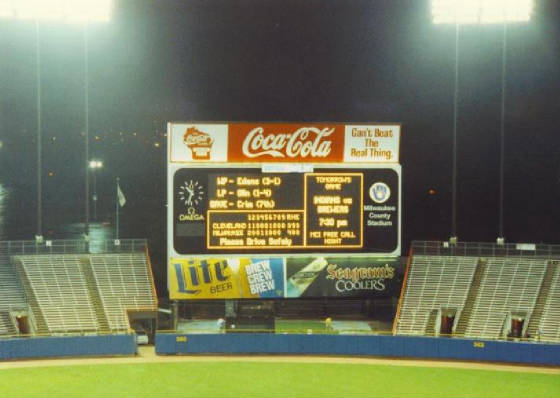 INDIANS 110 001 000 3 9 3
BREWERS 200 110 00X 4 8 0

TIME ::: 2:54
ATTENDANCE :::11,427
WEATHER ::: DRIZZLE / COLD
SEND ME AN E-MAIL

LINKS
The Official Site of the Milwaukee Brewers
Where they play now My Miller Park site
Milwaukee weather from WEATHER.com

© 2000-2012 UNCLE BOB'S BALLPARKS
I AM IN NO WAY AFFILIATED WITH ANY OF THE TEAMS ON THIS PAGE ... THIS PAGE IS MEANT FOR INFORMATION PURPOSES ONLY.