TEAM::: CHICAGO WHITE SOX
LOCATION :: CHICAGO, ILLINOIS
MY FIRST GAME ::: AUGUST 9, 1989
OPPONENT ::: OAKLAND A'S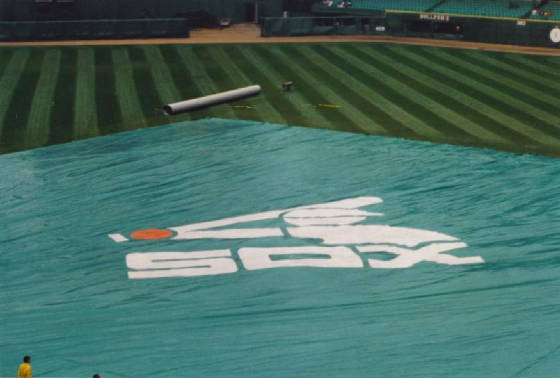 RATINGS
BALLFIELD ::: C+
SCOREBOARD ::: A++
FOOD ::: A+
FACILITIES :: B
MLB STADIUM RANK :: 2 OF 40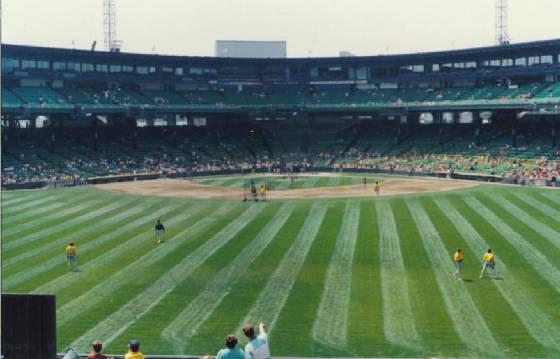 MY TAKE ON THE PARK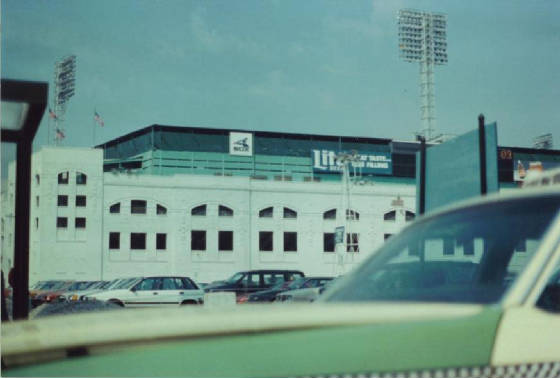 I STILL REMEMBER MY FIRST TRIP TO "OLD" COMISKY. I WAS SITTING IN TRAFFIC ON THE DAN RYAN EXPRESSWAY AND HEARD ON THE RADIO TO ONLY PARK IN OFFICIAL WHITE SOX PARKING, THE WHITE SOX WERE NOT RESPONSIBLE IF YOU PARKED ANYWHERE ELSE. IT DIDN'T GIVE ME THE MOST COMFORTABLE FEELING. SURE ENOUGH, AS I EXITED THE EXPRESSWAY, I COULD SEE PEOPLE TRYING TO LURE ME INTO ABANDONED LOTS WITH NOTHING ELSE IN THEM BUT STRIPPED CARS. HMMM, WHERE'S THAT OFFICIAL WHITE SOX PARKING, I THOUGHT.
AS I APPROACHED THE STADIUM I COULD NOT BELIEVE THAT THIS WAS A MAJOR LEAGUE PARK ... I WAS USED TO SHEA OR YANKEE, BOTH OF WHICH TOWER TO THE SKY. "OLD" COMISKY WAS ONLY 4 STORIES HIGH, OR SO IT SEEMED. I WAS AMAZED AT HOW SHORT THIS BALLPARK ACTUALLY WAS.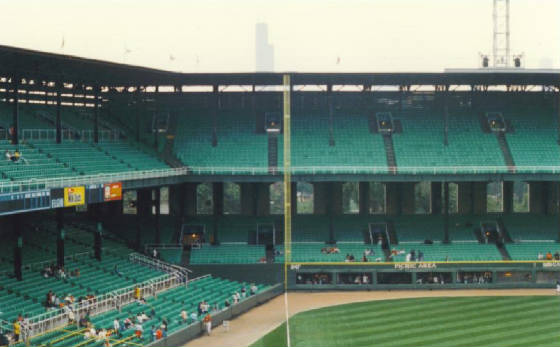 AS I LOOKED AROUND, THE STADIUM AS WELL AS THE TICKET BOOTHS WERE COVERED IN ABOUT 8 LAYERS OF WHITE PAINT.THEN, THE ANNOUNCEMENT " LADIES AND GENTLEMAN, BOYS AND GIRLS THE GATES TO COMISKY PARK ARE NOW OPEN". WITH THAT, THE GARAGE DOOR STYLE DOORS LIFTED AND INTO THE PALACE OF BASEBALL I ENTERED.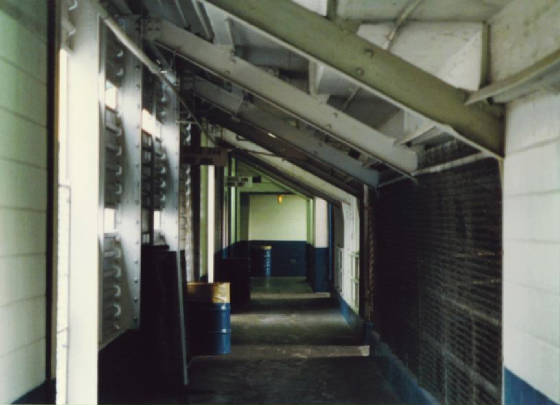 ONCE INSIDE, THE NARROW ALLEY WAYS WERE DARK AND OLD. LOOKING OUT ON THE FIELD, THE FIELD WAS ACTUALLY ABOVE THE FIRST FEW ROWS OF SEATS, SITTING IN THE FRONT ROW, YOU WERE EYE LEVEL TO THE PLAYING FIELD. AROUND THE PARK WERE A SEA OF GREEN SEATS WITH BRIGHT YELLOW BARS DIVIDING THE BOX SEATS. IN THE UPPER DECK IN LEFT, THERE ACTUALLY WERE SEATS THAT FACED THE SEATS IN FRONT OF THEM, YOU WOULD HAVE TO TUR YOUR HEAD ALL THE WAY TO THE RIGHT TO SEE HOME PLATE.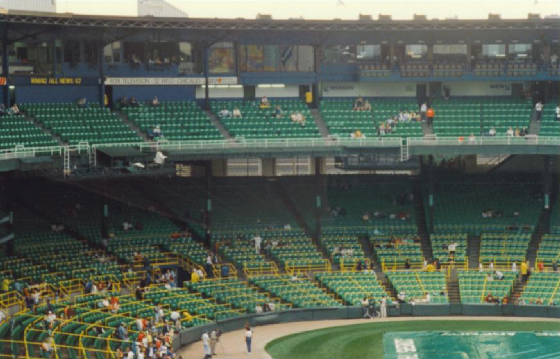 FOR MY FIRST GAME I SAT RIGHT IN FRONT OF NANCY FAUST, THE COMISKY PARK ORGANIST. SHE WAS LOCATED WITH THE FANS IN THE UPPER DECK ON THE THIRD BASE SIDE. SHE WOULD TAKE REQUESTS AND HAD A SONG FOR EVERY SOX PLAYER WHEN THEY CAME TO BAT. I REMEMBER WHEN STEVE LYONS CAME TO BAT AND THE THEME FROM "PSYCO" PLAYED. I SPOKE WITH HER DURING THE GAME AND TOLD HER OF MY INTENTION TO SEE WRIGLEY THE NEXT DAY. SHE TOLD ME THAT WRIGLEY WAS NICE, BUT COMISKY WAS BETTER. YOU KNOW WHAT, SHE WAS RIGHT.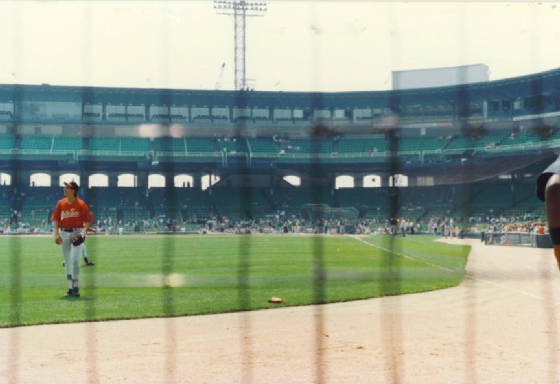 ANOTHER UNIQUE VIEW HERE WAS THE LEFT FIELD "BULLPEN CAFE". HERE, THE LEFT FIELD WALL WAS OPEN AND BEHND IT WERE PICNINC TABLES WHERE YOU COULD SIT AND HECKLE THE OPPOSING LEFT FIELDER. THE FOOD HERE WAS GREAT, I ORDERED A SAUSAGE SANDWICH WITH HOT PEPPERS, THE PEPPERS WERE HOT!! HOT HOT PEPPERS IN A MAJOR LEAGUE PARK WERE UNHEARD OF UNTIL NOW. THE FOOD HERE WAS SECOND ONLY TO MILWAUKEE.

THE ALTERNATIVE TO THE BULLPEN CAFE IN THE OUTFIELD WERE THE BLEACHERS. I THINK THESE WOODEN PLANKS WERE HERE BACK IN 1919! NOT THE MOST COMFORTABLE PLACE IN THE HOUSE, FOR SURE.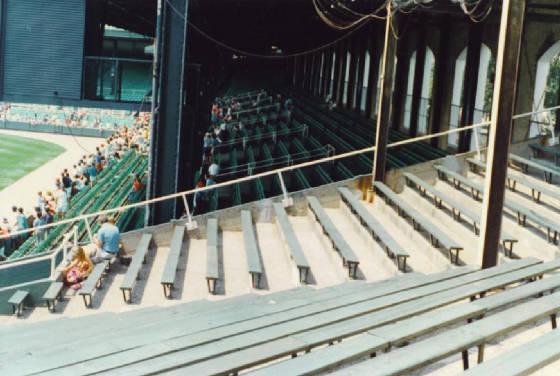 OF THE 40 MAJOR LEAGUE PARKS I HAVE VISITED, I RATE COMISKY PARK SECOND.
A VISIT TO KANSAS CITY KNOCKED THIS PLACE OFF THE TOP SPOT, KC IS JUST THAT GOOD. I RATE IT AHEAD OF A DAY GAME AT WRIGLEY. THIS PARK CERTAINLY DIDN'T HAVE THE MODERN AMENITIES, BUT IT WAS LOADED WITH CHARM AND SOME REAL GOOD PEOPLE.
LINE UPS
OAKLAND MANAGER :: 10 Tony La Russa

CHICAGO MANAGER :: 10 Jeff Torborg

OAKLAND A'S
24 Rickey Henderson lf
4 Carney Lansford 3b
42 Dave Henderson cf
39 Dave Parker dh
36 Terry Steinbach c
25 Mark McGwire 1b
6 Felix Jose rf
2 Tony Phillips 2b
7 Walt Weiss ss
29 Curt Young p
41 Jim Corsi LP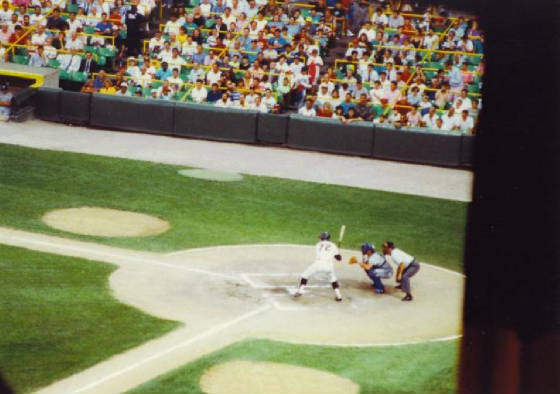 CHICAGO WHITE SOX
17 Dave Gallagher cf
7 Scott Fletcher 2b
22 Ivan Calderon rf
72 Carlton Fisk dh
24 Carlos Martinez 3b
26 Russ Morman 1b
8 Daryl Boston lf
20 Ron Karkovice c
13 Ozzie Guillen ss
34 Richard Dotson p
49 Tom McCarthy WP
OAKLAND A'S 000 100 001 00 2 13 0
WHITE SOX 000 101 000 01 3 14 1

TIME ::: 3:44
ATTENDANCE ::: 15,389
WEATHER ::: WARM

SEND ME AN E-MAIL

LINKS
The Official site of the Chicago White Sox
A tribute site to this great old park
Where they play now, my U.S. Cellular Field page
South Side weather from WEATHER.com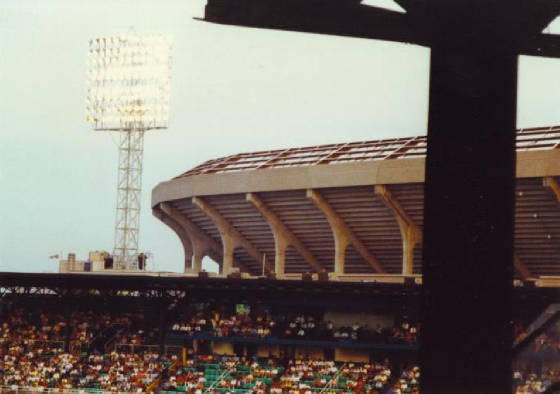 © 2000-2013 UNCLE BOB'S BALLPARKS
I AM IN NO WAY AFFILIATED WITH ANY OF THE TEAMS ON THIS PAGE ... THIS PAGE IS MEANT FOR INFORMATION PURPOSES ONLY.