TEAM ::: CLEVELAND INDIANS
LOCATION ::: CLEVELAND, OHIO
MY FIRST GAME ::: JULY 28,1992
OPPONENT ::: MILWAUKEE BREWERS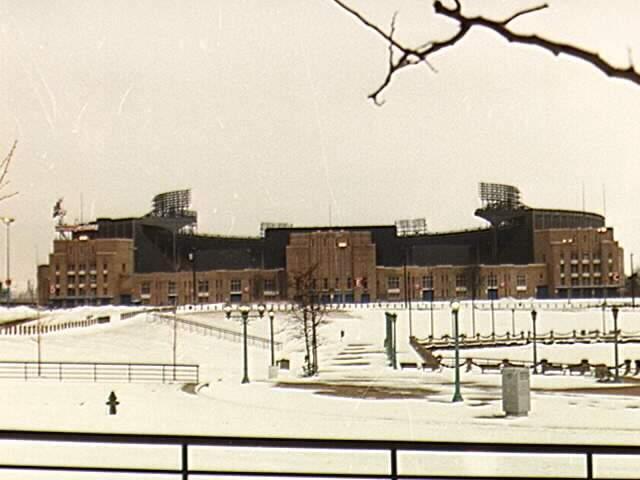 RATINGS
BALLFIELD ::: C
SCOREBOARD ::: C
FOOD ::: B+
FACILITIES ::: C
MASCOT ::: B+
MLB STADIUM RANK ::: 32 OF 40
MY TAKE ON THE PARK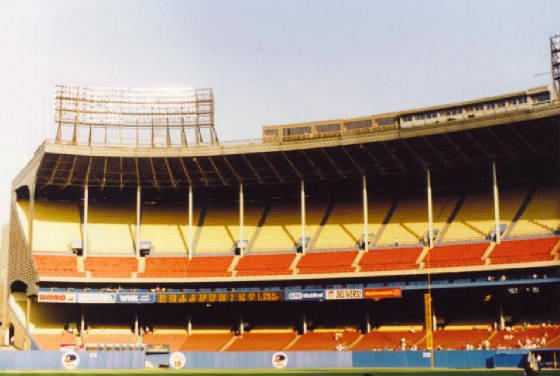 ASIDE FROM BEING VERY BIG, I ONLY REMEMBER ABOUT THREE THINGS ABOUT THIS STADIUM.
FIRST, UPON ARRIVING AT THE STADIUM IT LOOKED LIKE YOU WERE GOING TO A GIANT POST OFFICE. IT LOOKED LIKE IT HAD THE SAME AMOUNT OF PARKING FOR A POST OFFICE TOO. AN AVERAGE SIZED GRAVEL LOT WITH POT HOLES WAS THE PARKING LOT. I'D LOVE TO KNOW WHERE BROWNS FANS WOULD PARK.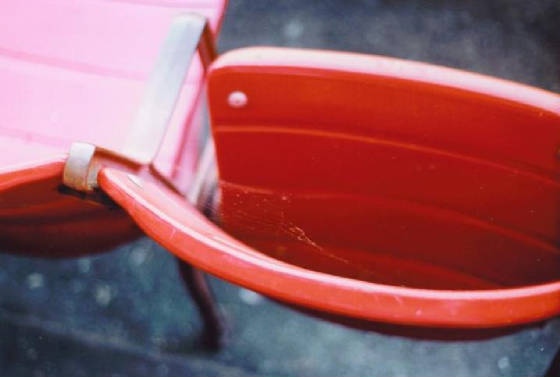 SECOND, AND MAYBE MY FAVORITE MEMORY IS THAT OF A COBWEB ON A BOX SEAT ... THIS SEAT WAS NEXT TO THIRD BASE AT FIELD LEVEL AND HADN'T BEEN SAT IN ALL SUMMER. I HAD WANTED TO SIT NEXT TO THIS SEAT BUT IN CLEVELAND, THEY GOT WISE TO PEOPLE PAYING FOR A GENERAL ADMISSION SEAT AND SITTING IN A BOX SEAT, SO STADIUM SECURITY MADE US MOVE AND DIDN'T LEAVE US ALONE UNTIL WE LEFT THE SECTION. IT WAS SOMETHING THEY GOT USED TO BEAUSE THAT WAS THE STANDARD IN CLEVELAND BACK IN THE 70'S, 80'S, AND EARLY 90'S, AN EIGHTY THOUSAND SEAT STADIUM WITH ATTENDENCE OF ABOUT TEN THOUSAND.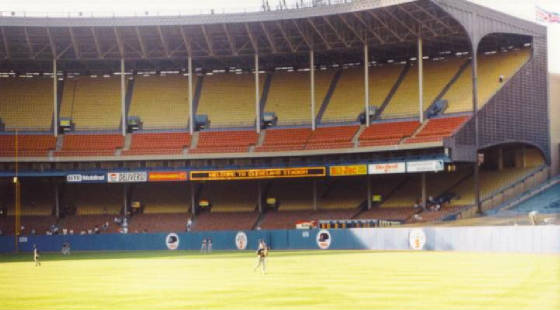 THIRD, WAS THE MUSTARD. GREAT MUSTARD AT EVERY CONCESSION STAND. I DON'T REMEMBER THE BRAND NAME BUT I REMEMBER IT WAS SPICY AND BROWN.
MY BIGGEST REGRET IS THAT I DID NOT SPEND AN INNING WITH JOHN ADAMS, THE BASS DRUM PLAYER AT EVERY TRIBE GAME.

OF THE 40 PARKS I'VE VISITED I RATE CLEVELAND'S 32nd, BEHIND ARLINGTON BUT AHEAD OF FENWAY. THE PLACE WAS HUGE BUT YOU HAD A LOT OF ROOM AND IT WASN'T VERY STRESSFUL.
THE LINE UPS
BREWERS MANAGER :::
3 PHIL GARNER

INDIANS MANAGER :::
21 MIKE HARGROVE
MILWAUKEE BREWERS
16 Pat Listach ss

20 Kevin Seitzer 3b

4 Paul Molitor dh

8 Dante Bichette rf

19 Robin Yount cf

24 Darryl Hamilton lf

32 John Jaha 1b

5 B. J. Surhoff c

17 Jim Gantner 2b

25 Ricky Bones p / LP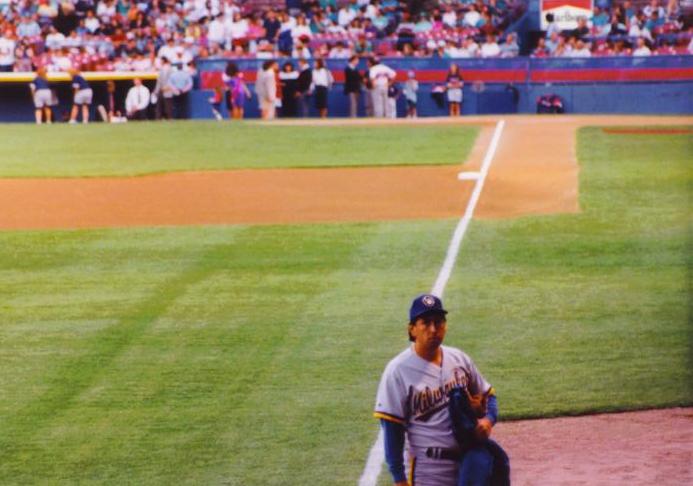 CLEVELAND INDIANS
7 Kenny Lofton cf
10 Mark Lewis ss
9 Carlos Baerga 2b
8 Albert Belle lf
11 Paul Sorrento 1b
1 Glenallen Hill dh
23 Mark Whiten rf
25 Jim Thome 3b
15 Sandy Alomar c
54 Rod Nichols p / WP
28 Derek Lilliquist S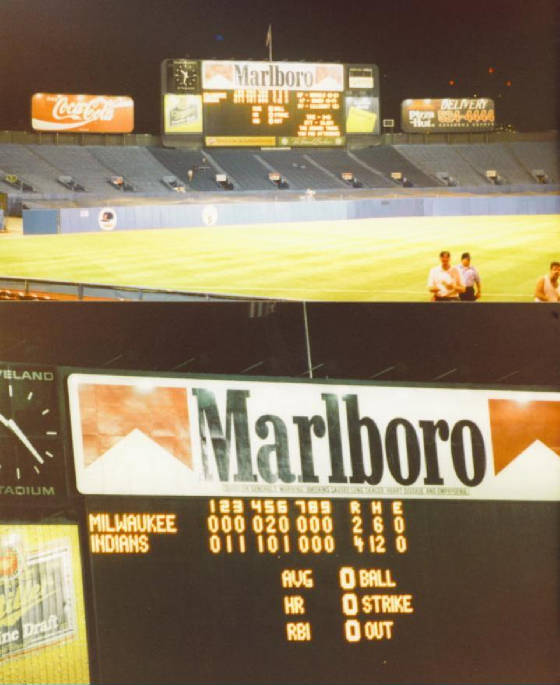 MILWAUKEE BREWERS 000 020 000 2 6 0
CLEVELAND INDIANS 011 101 00x 4 12 0

TIME ::: 2:46
ATTENDANCE ::: 12,164
WEATHER ::: CLOUDY / COOL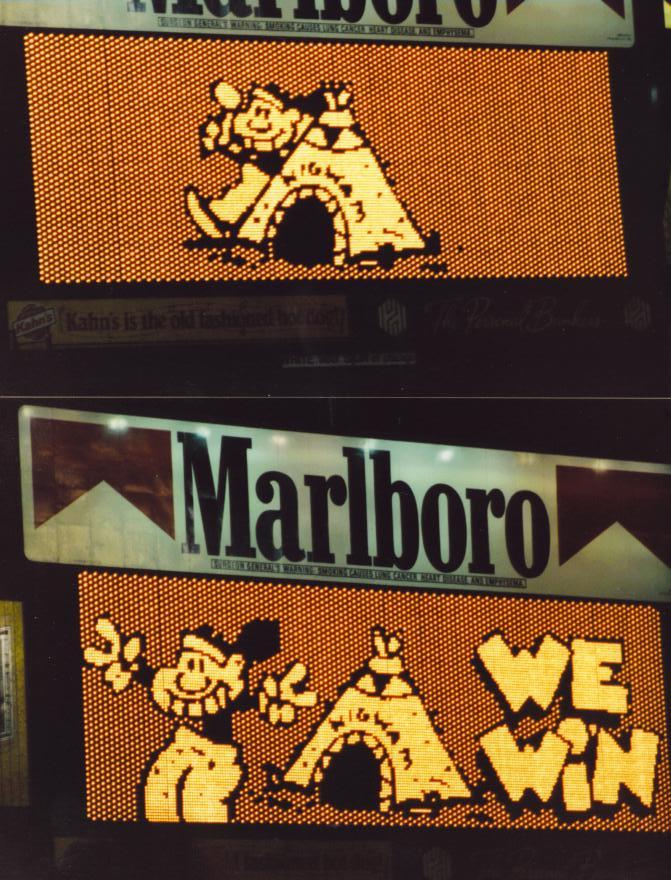 SEND ME AN E-MAIL

LINKS
The Official site of the Cleveland Indians
Where they play now, My Jacob's Field site
Cleveland weather from WEATHER.com

© 2000-2013 UNCLE BOB'S BALLPARKS
I AM IN NO WAY AFFILIATED WITH ANY OF THE TEAMS ON THIS PAGE ... THIS PAGE IS MEANT FOR INFORMATION PURPOSES ONLY.