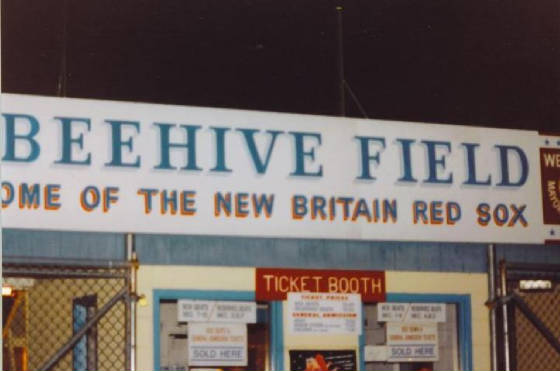 TEAM ::: NEW BRITAIN RED SOX
LOCATION ::: NEW BRITAIN, CONNECTICUT
MY FIRST GAME ::: JUNE 18,1992
OPPONENT ::: BINGHAMTON METS
LEVEL ::: EASTERN LEAGUE (AA)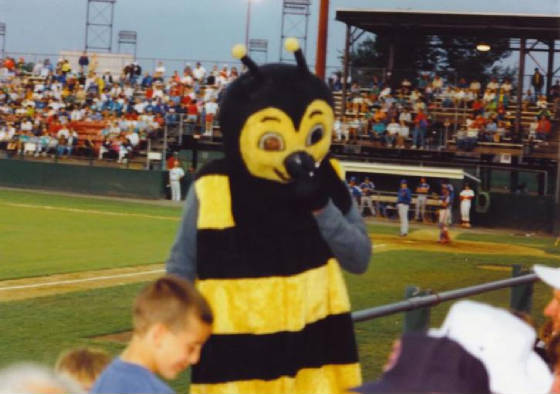 RATINGS
BALLFIELD ::: B-
SCOREBOARD ::: C
FOOD :::: C
FACILITIES ::: C
MASCOT ::: C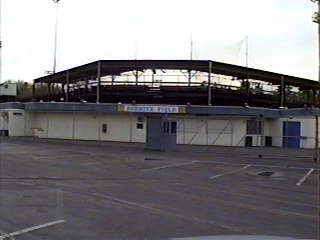 MY TAKE ON THE PARK
IF EVER THERE WAS A PLACE TO SHOW YOU JUST HOW FAR MINOR LEAGUE BASEBALL HAS COME, BEEHIVE FIELD IS IT. BUILT IN 1982 TO BRING A DOUBLE A TEAM TO NEW BRITAIN AND CLOSED IN 1995 TO KEEP A DOUBLE A TEAM THERE. THIS WAS NOTHING LIKE THE $20 MILLION PLACES THAT ARE GOING UP TODAY. IT IS STILL STANDING RIGHT NEXT TO THE NEW PLACE, IT LOOKS MORE LIKE IT WAS BUILT IN 1930.
BEEHIVE FIELD WAS A CHARMING PLACE VERY SIMPLE IN DESIGN. YOU WALKED IN, MEN'S ROOM ON YOUR RIGHT, LADIES ROOM ON YOUR LEFT, CONCESSION STAND BETWEEN THEM, AND STANDS
ABOVE IT ALL, THE PLAYERS WERE PRETTY ACCESSIBLE HERE TOO.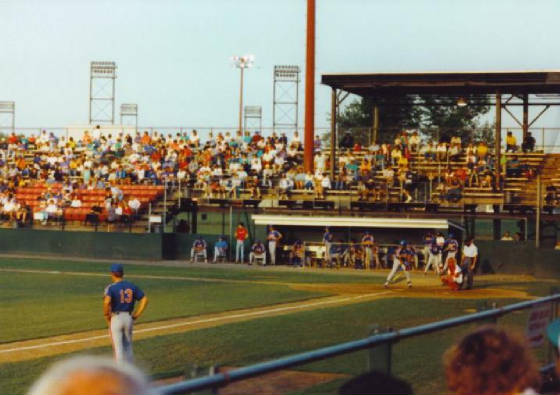 BEEHIVE FIELD WAS THE SITE OF MY FIRST MINOR LEAGUE GAME SO I GUESS I AM VERY PARTIAL TO IT. AS UNCOMFORTABLE A PLACE AS IT WAS, I ALWAYS STOP BY TO THINK THAT MAYBE THIS WAS BETTER THAN THE NEW PLACE. THE NEW PLACE HAS A LOT OF CONCRETE AND GREEN BUCKET SEATS THAT THE STATE OF CONNECTICUT MUST HAVE GOTTEN A DEAL ON. HOWEVER, BEEHIVE HAD STEEL BLEACHERS,A FEW HUNDRED RED SEATS AND A WARMNESS THAT THE NEW PLACES ARE MISSING.
YOU CAN STILL GO TO BEEHIVE FIELD, NEW BRITAIN HIGH SCHOOL GAMES ARE STILL PLAYED HERE.
THE LINE UPS
METS MANAGER :::
9 STEVE SWISHER

RED SOX MANAGER :::
20 JIM PANKOVITS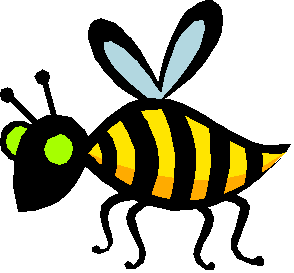 BINGHAMTON METS
4 Rob Kartzaroff lf
30 Bert Hunter cf
8 Tim Howard rf
44 Mike White dh
15 Brook Fordyce c
11 Chris Butterfield 3b
32 James Hoffner 1b
21 Doug Saunders 2b
25 Joe Dellicarri ss
46 John Johnstone p / WP
20 Gregg Langben S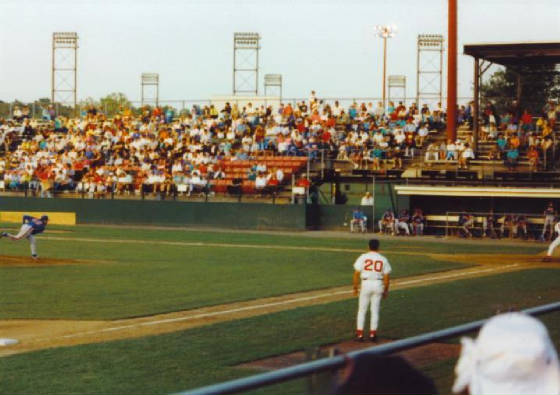 NEW BRITAIN RED SOX
27 Scott Bethea ss
17 Mike Dekneef 2b
44 Willie Tatum 1b
23 Greg Blosser lf
15 Paul Thoutsis rf
26 Bill Norris 3b
19 Bruce Chick cf
10 Scott Hatteberg c
28 Colin Dixon dh
36 Brian Conroy p / LP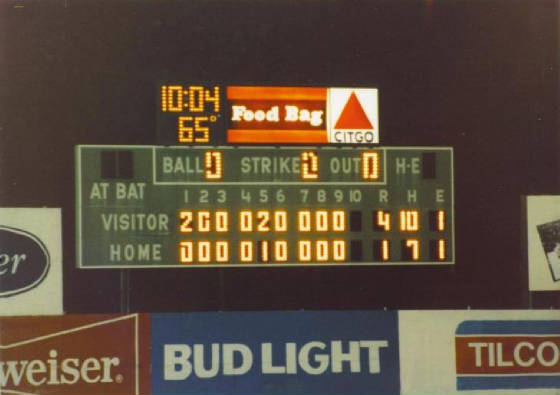 BINGHAMTON METS 200 020 000 4 10 1
NEW BRTN RED SOX 000 010 000 1 7 1

TIME::: 2:44
ATTENDANCE ::: 2,109
WEATHER ::: 72, CLEAR
SEND ME AN E-MAIL

LINKS
Where they play now .. My New Britain Stadium site
New Britain weather from WEATHER.com

© 2000-2013 UNCLE BOB'S BALLPARKS
I AM IN NO WAY AFFILIATED WITH ANY OF THE TEAMS ON THIS PAGE ... THIS PAGE IS MEANT FOR INFORMATION PURPOSES ONLY.